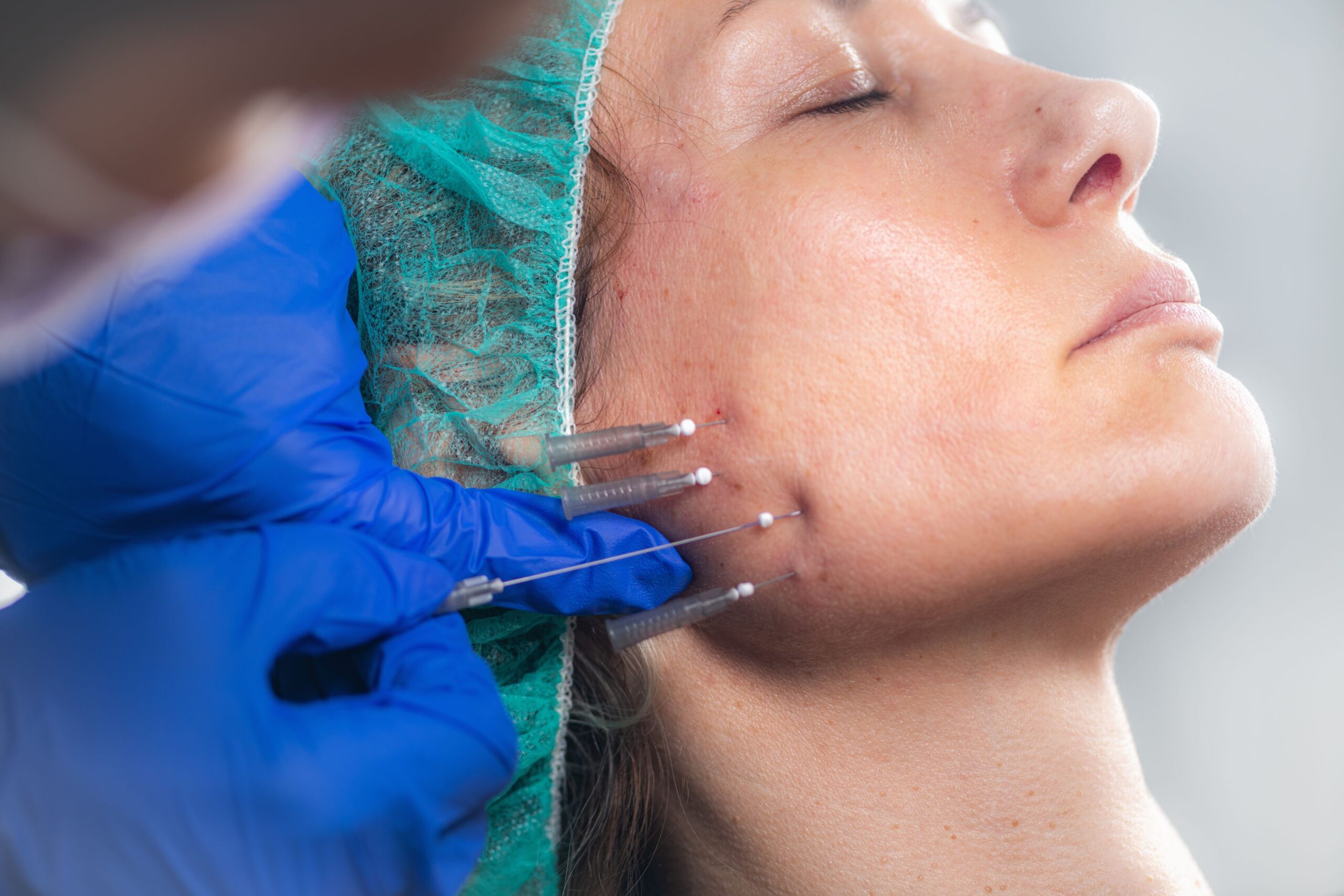 Without requiring surgery, sagging skin on the face or neck can be lifted with a thread lift. Sutures or "Threads" are used in this procedure to suspend the skin and give the face a light lift. It is very helpful for those who need to raise and shape their features
What is a thread lift procedure?
A thread lift is ideal for tightening the skin and repositioning the skin volume. After local anesthesia, special sutures are inserted into the subcutaneous fatty tissue in the desired area of the face. After anchoring, the threads in the facial area are stretched and the face is reshaped.
The gentle procedure leaves no scars and does not require a scalpel or extensive follow-up treatment.
Which areas on face and neck can thread lifts be done?
Areas such as the face, cheeks, neck, chin, eyebrows and the corners of the mouth can be tightened painlessly with the gentle treatment method of thread lifting.
At what age are threadlift recommended?
Thread lift is ideal for women between 35 and 80 years. The natural lifting effect is achieved without a scalpel and has a rejuvenating effect of about ten years.
How does thread lift work?
A thread lift ideally produces an immediate tightening effect. The skin already looks naturally rejuvenated after the first treatment. However, the natural effect increases from month to month as new connective tissue is formed. Experience has shown that the tightening effect intensifies after the procedure. The effect of a thread lift usually lasts for one to two years.
The placement of the stitches is not noticeable under the local anesthesia and usually does not leave annoying scars. The thread lift activates the production of collagen and regenerates your skin.
Is thread lift painful?
Generally, no. After the thread lift, regular cooling with cooling pads is advisable. Ideal is 20 minutes every hour on the first day of the thread lifting. To combat pain, it is advisable to take an analgesic such as paracetamol.
However, you should be careful not to make any violent or strong facial or neck movements within the next 14 days. After two days you are already socially acceptable again.
What advantages does thread lift offer?
The advantages of thread lifting are the gentle tightening of the skin and the scar-free removal of wrinkles of all kinds. A thread lift is performed without surgical intervention. You can resume your usual daily routine 24 hours after the thread lift without having to accept a longer period of absence. You will be socially acceptable two days after the thread lifting.
What precautions should be taken after thread lift procedure?
In order to achieve a beautiful and natural result after the thread lifting, you should avoid using make-up for the next 24 hours. Avoid sleeping on the side of your face. A supine position in a slightly raised position for five days is ideal.
Facial care should be carried out very carefully during the first five days. Never rub or massage the skin. Strenuous sports such as jogging should be avoided in the first two weeks,dental appointments three weeks. Do not schedule any neck or face massages or aesthetic treatments for the following four weeks.

Tanisha Kannan
Came to Doc Juvita with hair fall problems a couple of months ago. Over time with her treatments my hair has improved in terms of its texture, growth and appearance. I am extremely happy with the ongoing services she's providing for my problem. Highly recommend you to visit her clinic. She is a very sweet and approachable person.
Shreya Shetty
Dr. Juvita is the best dermatologist in bangalore.. I have visited Dr. Juvita Aesthetics for laser hair removal for full body 6 months ago. I am happy with the service. Clinic is clean and very professional. Thank you Dr. Juvita and team.. Ms. Deepika and Ms. Anuja also made me feel comfortable during the procedures.
Caroline Rebello
I visited Dr Juvita for a skin and hair related issue that I was facing for a few years. With one consultation and one dosage of medicines, I have seen credible results. Dr Juvita is especially wonderful and she also calls you back in a few days to see how you're recovering. Would 10/10 recommend this to friends and family. Very satisfied visit.
Shilpa Dsouzal
I went in for a consultation for my hair thinning and very visible scalp. Dr. Juvita was able to assess it as stage 4 female pattern and suggested treatment options. Knowing that at that stage, hair regrowth is minimal - she explained everything clearly and also what is achievable vs what isn't. I've done 7 sessions of treatment so far and we're seeing thicker hair, lesser hairfall. She and her staff are really professional and everything is done quick and painless.